Greeff
Genealogie Joernaal
Nuusblad van die Greeff en verwante families, Nr 7, Maart 2008. Redakteur: Francois Greeff.
Indeks van vorige uitgawes.
Home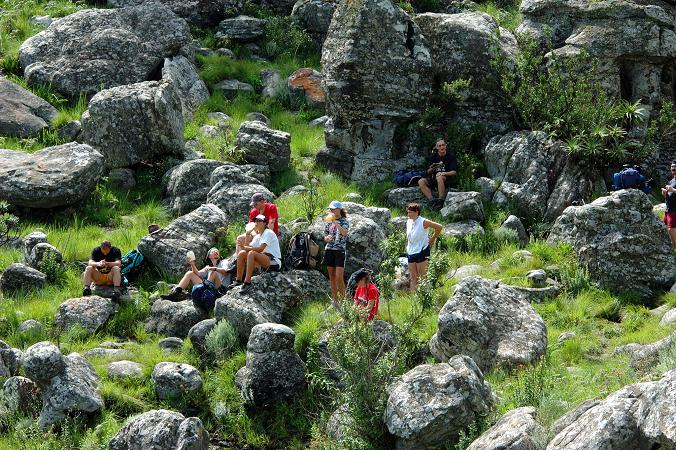 Gerhard Greeff hiking in the Blyde River Canyon with friends and family.
Contents
1. Greeff Genealogy - Hot News!
2. Wie is ek - Gerhard Greeff
3. 'n Brief aan ons Kuiernet
4. Books: Willie Greeff
5. Sloppy Work!
6. Vakante Poste - Advertensies
7. Readers' Questions
Greeff Genealogy
Our latest research news.
HOT NEWS!
Natanja Greeff approved for Masters Degree in Greeff Genealogy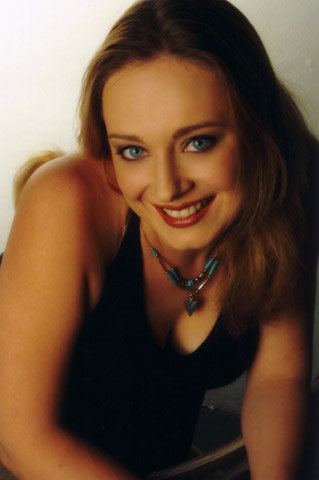 The University of Cape Town informed Natanja Greeff today that her application to do a Masters Degree at the department of Historical Studies has been approved. Natanja will do a research degree about the genealogy of the Greeff family, focusing on how the family formed new geographical branches at the farms on which Greeff people settled. Natanja's research proposal is attached below.
This degree is a logical development that flowed naturally from the Greeff Farms Project. The Greeff Farms Project started when Francois Greeff put together a research team to gather more information about Greeff farms and their influence on the Greeff family. Francois approached Natanja, who was working on the Greeff Facebook Project at the time, and asked her if she would like to move from Facebook to the farms project, and she agreed. They asked Lee Greeff in Pretoria if she would like to join the farms project too, and she agreed. The structure of the project was such that Natanja would deal with the Cape Town archives and Deeds Office, and Lee would do the same in Pretoria, and Francois would co-ordinate and steer the project from London. Together, the three of them aim to publish a book with the title: Greeff Farms.
In time, Francois put a suggestion to Natanja. He said that she would be doing a great deal of work and research, and that she could benefit greatly if she formalised the work by registering for a research degree. That way she would get a degree in recognition of her work. She would have the benefit of a supervisor to help and guide her, and the advantages of a structured program of study. Her thesis would also serve as one of the source documents for the book.
Francois has created a new challenge for the Greeff clan. Can the family raise R20000 to pay for this degree? It will cost about R12000 in University fees for the first year and the remaining R8000 is for costs, books and research fees at archives and the Registrar of Deeds' Office. Francois takes the view that this study is one that will benefit the entire Greeff clan and it will serve future generations very well. Natanja is not able to fund this study herself, and she never asked for anything. Since this was something Francois started, he sees it as his duty to finish what he started. He has taken responsibility for raising the necessary funds.
If you want to contribute to this worthy project, please email Francois at Greeff@Greeff.info, or write to the Greeff Kuiernet, or please just make an electronic transfer to:
Account Name: Die Greeff Familie Rekening
First National Bank (FNB)
Branch: Kolonade
Branch Code: 251037
Account Number: 62 146 22 44 99 (Business Account)
People outside South Africa are invited to make Paypal transfers to Francois Greeff at GoodGreeff@hiddencode.co.uk
We will be grateful for all contributions.
************************************
Research Proposal: A study in family history
Natanja Greeff (GRFNAT003)
Title: Greeff Farms and the Greeff Family Structure.
INTRODUCTION
South Africa is unique for having had a rural community, based on farms, for two entire centuries (1670 – 1870). Much of South Africa's history is centered around farming communities, the people who owned the farms, lived on them, inherited them and worked on them.
Farms also occupy a unique place in South African genealogy because no other country or population has ever been so strongly rural as the Afrikaner farming generations.
Karen Stein Daniel writes in her article, An Africa to New Mexico Connection: Another Look at the Boers, that farming was such a part of the Afrikaner lifestyle that it became part of their identity,
"Over time and with the process of developing a separate identity, the terms 'Afrikaander, Afrikaaner, and Afrikaner' were used. These terms often were used interchangeably with the term 'Boer', literally, 'a farmer.' Nathan describes the Boers as a 'nation of farmers' signifying not only their main calling, but their attachment to the soil. (Daniel, 2004. http://www.nmgs.org/artBoer.htm)
What makes the Afrikaner farm stock doubly interesting to the genealogist is that they had a very strong sense of community and were bound together by close family ties and by their church, which kept accurate records of births, baptisms, marriages and deaths.
TOPIC AREA
The history and structure of the Greeff family in South Africa will be studied with reference to the farms the Greeff family settled on. The farms themselves, their creation, histories, mineral rights, sale, acquisition, bequest, and place in family legend will also be studied.
RESEARCH QUESTION
With this proposed thesis it is intended to explore the way in which land and ownership of land shapes identity, focusing on the Greeff family as Afrikaner family, and its farms. It is to be an investigation of the history of the Greeff family and how the Greeff family formed new branches at the various farms on which they settled. It will thus use the lens of the farm to focus discussions of culture and history. It will do this by looking at:
a) The Greeff family history
b) How the Greeff family formed new branches through sons who settled on farms, and that each branch is descended more from several generations of Greeff who occupied a farm than a branch is descended from a particular person, who first settled on a particular farm.
c) How Greeff family branches are geographical, in consequence of being tied to farms.
SIGNIFICANCE TO KNOWLEDGE
The Greeff clan forms an ideal sample of South African history and culture. The lines of reasoning applied to this sample would apply equally well to the rest of the European settlers in South Africa. This Greeff study is thus a sample study of a nation and its history and culture.
LITERATURE REVIEW
Title

Author

Publication Details

Die Wel en Wee van Hendrik Adriaan Greeff

Bosman, Ampie

Geschichte der Familie Greeff aus der Huckenbach

Bredt, Johann Victor

Marburg. 1941. Karl Gleiser (R Friedrich's Universitats-Buchdruckerei) Marburg-Lahn

Mijne Omswerwingen Gedurende den Oorlog

de la Rey (Greeff), Nonnie

Stigter van Lichtenburg, Kommandant H A Greeff

du Preez (Greeff), Gretha

DEPOT TAB. SOURCE Biblioteek. TYPE Pamflet. VOLUME NO P696 (P361). DESCRIPTION: Gretha Du Preez - Stigter van Lichtenburg. Kommandant HA Greeff. (1960)

Die Berg Piketberg en sy Mense

du Preez, Thys

1994

Nonnie de la Rey 1856-1923

Rowan, Zelda

2003. Master's Dissertation at the department of Historical and Heritage Studies at the University of Pretoria (etd-10122004-102524)

Nonnie de la Rey: Summary

Rowan, Zelda

2003. Master's Dissertation at the department of Historical and Heritage Studies at the University of Pretoria (etd-10122004-102524)

Uit die Verre Verlede
(Images by Diekie Schoeman, with thanks.)

Schoeman, M M (Lenie) (born Greeff)

1926. Privately published. Rheeboksfontein.

Stories uit die ou dae

van Niekerk (born Greeff), Kowie

Suid van Tobruk

van der Linde (born Greeff), Kittie

Published by Medpharm Publikasies, Irene, 2001.

Foto-album van Lichtenburg, 1875 tot 1975

Bosman, A D

Lichtenburg 1865 - 1985

Bosman, A D

Dagboek van Adam Tas, 1705 - 1706

Fouche, Leo

Uitgegee deur Leo Fouché en hersien deur A.J. Böeseken met bykomende voetnote deur prof. A.M. Hugo

Dagboek van Adam Tas, 1705 - 1706

Fouche, Leo

English translation by Dr J. Smuts

SA Genealogies, Vol 2, D-G

Heese, JA en Lombard, RJT

Personalia of Germans at the Cape, 1652 - 1806

Hoge, Dr J

De la Rey, Lion of the West

Meintjes, Johannes

Scotty Smith

Metrowich, F.C

Books of Africa, Cape Town. 1962

De La Rey 'n Stryd vir Vryheid

Raath, A W G

2007. Kraal Uitgewers, Brandfort.

Rhodesia Medal Roll. Honours and Decorations of the Rhodesian Conflict 1970 - 1981.

Saffery, David

2006. Jeppestown Press, London

Stellenbosch Three Centuries

Smuts, Francois (Ed)

Stellenbosch Town Council, 1979

The Rudman Register. Rudman and related families: Erasmus, Pote & Kirsh

Mellville, J

1980

SA Genealogies (The whole series)

JA Heese en RJT Lombard / GISA

Laing family

Familieregister van die Lötters in Suid-Afrika

Lötter, J de V

Weltevreden

Lötter, C J

Die herkoms van Mora se Nels en Arlington se Koekemoers en hul afstammelinge

Nel, F J G

1987

Familia Nel van Nelspruit

Bornman, H

1980

Familiegeskiedenis en geslagregister van Pieter Cornelius Nel

Munnik, F C

1990

Familiegeskiedenis en geslagregister van Pieter Cornelius Nel

Nel, F J G

1987

Van Blomfontein na Papkuilsfontien tot Sewefontein Jacobus Hendrik Louw Nel * 8.8.1888 + 11.12.1967

Nel, E

1998?

Heymans, Rudolph, Pieterse, Nel - enkele geslagslyne

Heymans, Dean

1999

Die trek uit Oos-Rietrivier; Studies oor die Groot Trek (Nel)

Visagie, J C

2002
OTHER SOURCES
Greeff farms are well-documented and archived in the National Archives and in the Deeds Office and source documents of very high quality and reliability are widely available. The following additional sources are to be consulted:
The various National Archives at Cape Town, Pretoria, Bloemfontein

The various depots of the Registrar of Deeds all around South Africa

The Huguenot Foundation

The 1820 Settler Foundation

The Genealogical Institute of South Africa

The Greeff family web site, www.Greeff.info
PRELIMINARY WORK
Farms allow a study of the main Greeff family branches in a way that has never been done before. We can trace the migration of the Greeff family through the farms they occupied, from the very first settler to arrive in SA:
1. The progenitor of the Greeff family in SA was Matthias Greeff. He arrived in Cape Town in 1680 and lived and farmed at Nooitgedacht, Stellenbosch. The farm was awarded to him by Simon van der Stel in 1692. (http://www.nooitgedachtestate.co.za/site/awdep.asp?depnum=14972)
2. Matthias' son, Matthys Greeff, farmed at 3 Fonteijnen (Reference number: MOOC8/2.88)
(Source: http://www.greeff.info/tng01/getperson.php?personID=I62&tree=GreeffMainTree)
3. Matthias' son, Hendrik, farmed at "Hooge Kraal geleegen in de Thomas Kloof in de Tijgerbergen" ( Reference no.: MOOC8/6.80) ( Source: http://www.greeff.info/tng01/getperson.php?personID=I375&tree=GreeffMainTree)
4. Matthias' son, Adriaan Greeff, farmed at De Grendel at Paardeberg, near Paarl. (Reference: Resolusies van die Politieke Raad, Deel VIII[14], p299, 21 July 1733. "aan Adriaan Greef 10 morgen 170 roeden bij sijn plaats gent. de Grendel van de Paardeberg". (Source: http://www.greeff.info/tng01/matthijsgreeffandhischildren.php)
Equally, a search of the archives yields the names of the farms that Matthias Greeff's grandchildren and further descendants settled on. Later Greeff sons migrated towards Malmesbury and to the Eastern Cape during the eighteenth and nineteenth centuries. They settled at many towns around Oudtshoorn (eg. Adelaide, Jansenville, Pearston, Somerset East). At Oudtshoorn, for example, the family seat was at "De Hazenjacht" (Reference: Death Notice: MOOC 6-9-161 No 4520 and Death Notice: MOOC 6-9-156 NO. 3251).
(Source: http://www.greeff.info/tng01/getperson.php?personID=I244&tree=GreeffMainTree and http://www.greeff.info/tng01/getperson.php?personID=I226&tree=GreeffMainTree)
Toward the end of the nineteenth century migration to the Transvaal can be detected in the Pretoria achival records. The Founder of the Transvaal town, Lichtenburg, was Hendrik Adriaan Greeff, who was born on the farm "Lichtenburg" at Durbanville, Cape Town, on 29 Jan 1828. By 1865 he was settled on a farm in the Transvaal: "In 1860 Greeff bought the farm Doornfontein and later also a part of the farm Elandsfontein and the present farm Manana. Since, as a farm surveyor, he was usually paid in land, he acquired a number of farms with which he speculated, and in 1865 he campaigned for the founding of a town to be called Lichtenburg on the farm Doornfontein" (De Kock, 1987)
The migration of the Greeff clan changed with the advent of urbanisation, which increased continuously during the twentieth century, but persistent twentieth century farm holdings continue to testify to the historical importance the Afrikaner attached to land. Many farms have now been in the same family for several generations, which gave rise to the creation of branches of the Greeff clan, branches that were directly related to the farms they occupied. (http://www.greeff.info/tng01/matthijsgreeffdata.php).
METHODOLOGY
Research will involve extensive contact and correspondence with members of the broad Greeff family tree and its various branches across South Africa, in order to obtain personal accounts of the history of family farms and their inhabitants, as well as access to private documentation and historical assets. Where necessary it will involve visiting farms, taking pictures of gravestones (these can tell much about the deceased inhabitants of the farm) and interviewing current owners. Deeds, wills, death notices and a wide variety of documents will be sourced from the archives, and newspaper archives will be searched for relevant newspaper reports. In addition to this, internet and literary research will be conducted.
Extensive and close contact with Greeff genealogists and researchers will be maintained, in particular with the following: Francois Greeff (Greeff genealogical research, and Greeff Death Notices), Colonel Jan Greeff (Hendrik Adriaan Greeff descendants), Prof Andre Servaas Greeff (Matthias Greeff descendants), Lee Greeff (Estate files of the Pretoria Archives), and Lucia Wels (Greeff photographic portraits). The work of other known Greeff genealogical researchers will also be consulted, in particular the work of Alta le Roux (Greeff of Oudtshoorn), Louis Echbert Greeff (Greeff from the Great Karoo), Alisan Greeff (Greeff in other larger family trees), Prof Jacobus Maree Greeff (Greeff Pedigree) and Lucas Rinken (e-SAGI).
EXPECTED RESULTS
In outlining their genealogy people will often mention casually – almost by coincidence- the farms which formed the setting for their heritage, not realizing the significance and relevance which that piece of land, and its stories, holds in terms of their identity and heritage. What this research proposes to do is to, like a photographer does with any subject matter, take the landscape and geography out of its normal context and forefront it, as a lens through which to view people. It is therefore to be a paper not about Greeff farms themselves, but rather one that is focused around Greeff farms to highlight a piece of history that undeniably has played a part – both positively and negatively – in the shaping of South African identity. The history and structure of virtually all European families that settled in South Africa was shaped by an attachment to farm land, as will be seen to have been the case in the history and structure of the Greeff family and their farms.
The proposed study is unique in that it is unlikely that any significant or published study of how farm ownership shaped a family or clan has been done before.
BIBLIOGRAPHY
1. Daniel, Karen Stein. An Africa to New Mexico Connection: Another Look at the Boers, in New Mexico Genealogist, v 43:1. March 2004. http://www.nmgs.org/artBoer.htm
2. De Kock, W. J. (Ed). Dictionary of South African Biography. National Council for Social Research. Nasionale Boekhandel Bpk. for National Council for Social Research, Dept. of Higher Education, Pretoria, 1987.
3. Greeff, Francois. www.Greeff.info
4. http://www.nooitgedachtestate.co.za/site/awdep.asp?depnum=14972
5. MOOC8/2.88, http://www.greeff.info/tng01/getperson.php?personID=I62&tree=GreeffMainTree)
6. MOOC8/6.80, http://www.greeff.info/tng01/getperson.php?personID=I375&tree=GreeffMainTree
7. De Wet G.C. Resolusies van die Politieke Raad, Deel VIII[14], p299, 21 July 1733.
8. http://www.greeff.info/tng01/matthijsgreeffandhischildren.php
9. Death Notice: MOOC 6-9-161 No 4520
10. Death Notice: MOOC 6-9-156 NO. 3251
11. http://www.greeff.info/tng01/getperson.php?personID=I244&tree=GreeffMainTree
12. http://www.greeff.info/tng01/getperson.php?personID=I226&tree=GreeffMainTree
13. http://www.greeff.info/tng01/matthijsgreeffdata.php
******************************************************************************
Laas maand se navorsingsbydraes:
Die sukses en voortdurende groei van die Greeff Familie Stamboom is die gevolg van honderde mense wat elkeen 'n bietjie inligting bydra. Gedurende Februarie alleen het ons inligting van die onderstaande mense gekry, wat almal gehelp het met die bou en verbetering van die Greeff Familie Stamboom. Ons dank aan hierdie mense vir hulle bydraes tot die stamboom:
Alisan Greeff
Alta Griffiths
Anita Slabbert
Ann Tiran
Annemie Lourens
Antoinette Greeff, Namibia
Barbara Cailliau (fotos)
Barend Leach
Bonnie Sydow
Clive Greeff
Diekie Schoeman (50 Death Notices)
Elani Bothma
Gerhard Greeff
Hennie Greeff - Nieu Zeeland
Hennie Greeff, Sandton
Ian and Michelle Carruthers, Harare
Ilana Greeff
Izane Greeff - Namibia
Jan Engelbrecht
Jan Greeff - (50 Death Notices)
Janet Melville
Johan Greeff (Plaasfotos)
JP Greeff (Edgemead)
Karin Prinsloo (50 Death Notices)
Lee Greeff
Louis Echbert Greeff - Pretoria
Louis Egbert Greeff - Arendsnes
Louis van Niekerk - (50 Death Notices)
Lucia Wels
Maureen McCleland
Melinda Greeff
Natanja Greeff
Paul Naylor - Greeff Plaas Projek
Ria Roux
Rina Brink
Rina Greeff - Jansenville
Robin Griffiths
Tombi Peck
Viljoen Greeff
VJ Greeff
Willex Greeff
My apologie en dank aan daardie mense wat gedurende Februarie gehelp het, maar wie se name ek per abuis nie op die lys het nie.
Thomas Grehardus Greeff (Below)
Hi, all you beautiful Greeff's out there. I would like to introduce myself as I need some help with my family tree. Francois suggested that I write a "Who am I" piece. I think the best way to get to know me is to tell you what I have been doing for a living. I am not a workaholic per se, but I work a lot.
My name is Thomas Gerhardus Greeff, Gerhard for short. I was born in 1965 in Potgietersrus. Don't ask me what name it's called by these days, I cannot remember the new name. At least I can still find the road through the pot-holes. I think I was born somewhere they had nuns. My dad (with the same names as I) has an irrational fear of nuns. I don't know if there is a name for this like there is a name for the fear of clowns, but he has it anyway. I don't know if he saw me much the first couple of weeks when my mother was in hospital.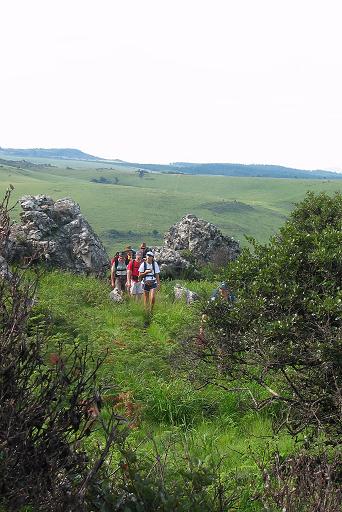 Anyway, I suppose I was a typical Greeff boy in the "platteland". Then my folks moved to Pretoria, heartland of the Afrikaners, when I was about 3 or 4 years old. When I was about 5 years old, we moved to Erasmia. This is a small little suburb southwest of Pretoria, close to Laudium. Here I spent my formative years, from grade 1 to standard 5. I did pretty well in all sports and was not too shabby at the academics either. I attended Voortrekkerhoogte High School (I would have written the Afrikaans name except the umlaut on the e sometimes disappear in HTML text and I did not want to give the wrong idea about the school). I started reading when I discovered the library in standard 1 (grade 3) and haven't stopped yet. I had read everything in the library by the time I left std 5, including biographies of Mozart & Chopin (in Afrikaans of course). I cut my teeth on Louis L'Amour and JT Edson in std 5 and have been reading English ever since, but more about this later.
I have three sisters, Annelize (now Swartz living in Somerset West), Clarissa (now DuRand living in Centurion after returning from a three year stint in Dubai – I visited them a couple of times on my travels) and Marelize (now Muller living in Centurion). The first three of us are nicely spaced about three years apart, but Marelize was a push-over try in injury time according to my dad. She is 13 years my junior. She went to school when I went to the army. Go figure.
I met a number of real characters during high-school and as far as I know they all did well for themselves (teachers, doctors, dominees, IT managers and such). Most of them went to university while I went to the army. Unfortunately we lost touch, but I still hear about them now and again. After the army (where I met another set of real characters), I went to study at the Vaal Triangle Technicon (now called the Vaal University of Technology). I obtained my National Diploma in Chemical Engineering (hard to believe I know!!). I still see my army buddies on occasion and some of my technicon pals as well.
Clarice Greeff
I studied with a bursary from the government (Nuclear Energy Corporation). I went to work at Pelindaba in 1986. There I dabbled with the refining and purification of calcium (from aluminium powder and calcium oxide). Pure calcium is one of the raw materials used to produce uranium fluoride (how, I don't know). I also worked on the extraction of uranium oxide from water solutions using membranes. This was so booooringgggggggg……… I realized that I am not a research engineer at heart.
I left at the first opportunity to join a pharmaceutical company. I also married my high-school sweetheart, Ida. I started as a plant supervisor in the fine chemical division, moved on to foreman, shift manager, plant manager and QA Manager. During this time my wife also gave birth to my first lovely girl, Claris (Pictured on right). I obtained two additional diplomas (Production Management and Quality Management & Control) and I implemented ISO 9001 for the division. I ended my career there as SHE & TQM Manager for the group but also added another girl to the family, Cora-Lize, the apple of my eye.
Cora-Lize, the apple of my eye.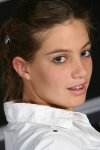 During my time at this company I worked myself out of 4 jobs. I would learn what was required, implement the right procedures and behaviour in my sub-ordinates, and then identify the brightest one and teach them my job. I would delegate most of my work leaving me free to explore other things. Then I would motivate my manager/s or executives to promote me or officially free me up to pursue these interests. It worked for me…..
I then left to start my own company with a partner, consulting in environmental management and process optimization. Unfortunately we were a bit ahead of the times. We had basically one client, not enough time to do proper marketing and the market was not that interested in the "Green thing". We made a living for 6 months before our client was bought out by an American corporation and they cancelled all contracts. I then started looking for a job again.
Gerhard and Clora-Lize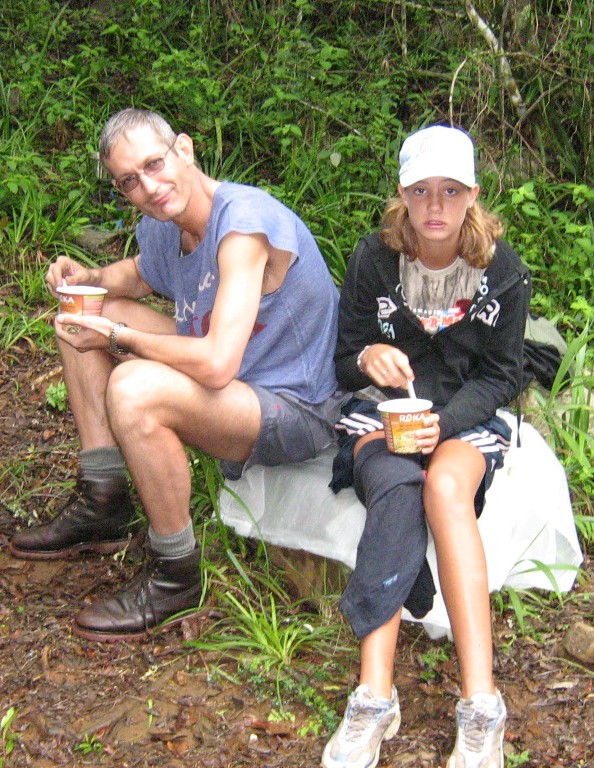 I was lucky, after 6 months of scraping the bottom of the barrel, selling my house, cancelling my policies and borrowing money from the family, to be offered a job at Proudfoot consulting as a consultant. These 6 months of unemployment took me 6 years to make up. Anyone of you that has been retrenched will know how I felt. Proudfoot immediately sent me off to a mine in Carltonville. Drive there on a Monday morning and see the family again on the Friday evening. Carltonville did not have a big variety of places to eat, only one restaurant, a pizza place and a Chicken Licken. I had no real cash, so I lived on pizza and coffee at the guesthouse during the week. I would go into the pizza place, wave to the girl behind the counter, sit in a booth with my book and the waitress would bring my coffee and ask "same again Mr Greeff?" Guess what the family wanted when I got home on a Friday? You guessed it, pizza!! After 6 months of this I asked the landlady of the guesthouse if I could eat with them, provided they had vegetables. Luckily she agreed, else I might have died of scurvy.
Ida, Gerhard, Dunno, Claris, Cora-Lize.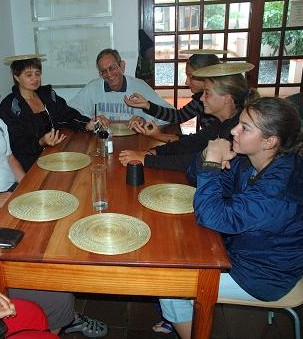 My next project was at a paper-pulp plant in Swaziland followed by a stint in another mine in Klerksdorp. Then they sent me to Nashville, Tennessee to work at a zinc mine. So I spent 6 months in the heartland of country music. I visited all the places you hear about in the songs, like the White Horse saloon, Broadway, Chattanooga, Jack Daniels factory and Jacksonville. My wife visited and we spent a wonderful weekend in Memphis where we visited the King's house (that's Elvis Presley for the younger Greeff's that does not know this), watched the changing of the ducks at the Peabody hotel and watched the street musicians during the Blues carnival from BB Kings.
When I got back home I was head-hunted by an IT company specializing in manufacturing. I moved again from consultant, to Consulting manager, to Operations manager and now I am the Divisional manager running the whole show. This is a very stressful business, with IT that costs a lot of money and manufacturing companies that do not like spending money. So it is a constant struggle to keep the people busy and productive. I have to sell it, help design it, build it and make it work. I also have to change nappies once a week, either for a programmer (propeller heads most of them) or for clients (complaining about everything from system failure to my employees drinking their milk or going on leave).
I have written a technical book and numerous articles in various publications. My dream is to write a fantasy novel one day. When this will happen is anybody's guess!!! In the mean time I try keeping my hand in by ramblings and musings like this. I do not have Francois' capacity for typing, so it takes a while to produce anything, but people mostly enjoy what I write (or they lie to my face, which is not unlikely, I have to admit!!!).
So, that's me. My wife Ida is completing her final year nursing degree (including a 3 month exchange program in the Netherlands) and then she needs to complete her Zuma year before being registered by the state. My oldest daughter, Claris, is in matric and my youngest, Cora-Lize, in grade 9.
In my spare time, of which there are very little, I am sorry to say, I make time to read, fantasy mostly, in the last 6 years or so, but actually anything. I have read Stephen King to Terry Pratchett, Robert Ludlum to Mills & Boon, Daleen Matthee to Harry Potter. The M&B I read when I had nothing else of course, as my wife reads that stuff. I feel uncomfortable and itchy when I don't have a book waiting for me, so I will grab anything. I even read a dissertation on the complete works of Cicero (Julius Caesar's contemporary). I was lucky that my uncle gave me most of his collection of books built up over about 20 years. So my study is now filled from top to bottom. Most I have read, but every now and again I will find one I have not read yet. I am great at multi-tasking, I can eat, read and watch TV at the same time! So I go through a book in less than a week. Something like the last Harry Potter I started in the UK and finished before we landed in SA.
Claris, a friend, Cora-Lize and my wife, Ida, ready for a hike.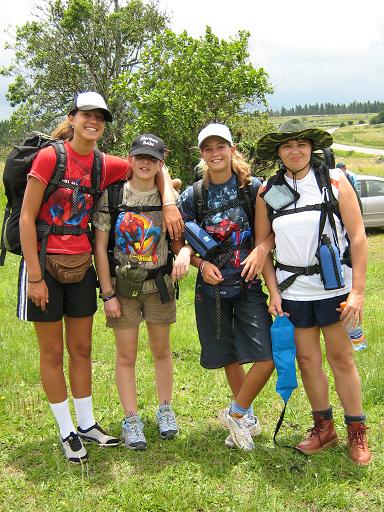 I don't like working in the garden. We hike as a family every December for 3 or 4 days. We prefer the Blyde River route because it is beautiful. It is not too hard, but gives adequate exercise. We try to go to the coast once a year for vacation, but while my wife has been studying we did not really manage that. This year though, we are going as my wife leaves for some small Dutch town close to Amsterdam after the school vacation. I took the family to Disneyworld in Orlando (USA) and Fort Lauderdale two years ago. We did the whole touristy thing and the kids loved it. I am saving up for Italy, as I have told the family about it and they want to see Rome and Venice. They like the Olson twins, so they have the "When in Rome" and some other teen movies featuring Italy.
Oh yeah, I also train for a company on an ad hoc basis, so besides the USA, I have been to England, Scotland, Wales, Ireland, Australia and New Zeeland. I have also been to Italy, the Arab Emirates, Bahrain and Saudi Arabia. SA is still the best though.
Both my daughters love sport but not academics, which is unfortunate. They play netball and softball and I try to go to every match I can. My wife shares my passion for reading, but is not as obsessive about it. We live in Centurion. My daughters both have a web presence on Facebook and you can Google me for some more of my ramblings.
Claris Greeff (right).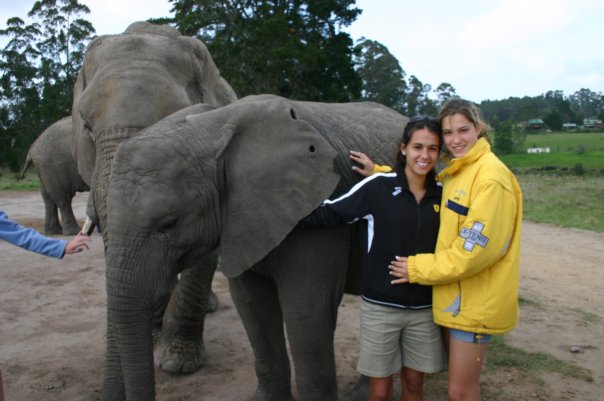 Francois asked me to also write about the Greeff family I know about. That is a big problem. I don't know much about them to be truthful. As I always had my nose in a book I did not get to know my father's side of the family. That, well as they all lived in Northern Transvaal (now Limpopo) and Botswana. My father is a Thomas Gerhardus as was his father before him. There is some confusion about what my father's grandfather was called. My Grandfather had three or four brothers and I think the oldest one was a Jan Johannes, but my dad is not sure. I asked him to try and find out from the living aunts.
My grandfather died some 10 years ago (in Pretoria) as did my grandmother (in Potgietersrus some 2 years earlier). My gran was from the Jordaan clan if I am not mistaken and had at least two sisters (I only knew them as aunt Meraai and aunt Graaitjie), one lived in Potgietersrus and the other on a farm in Botswana until the late 80s. I also remember that we used to visit some family in Swartwater or Swartruggens when I was but a tyke. Whether they were Greeffs or Jordaans I am not too sure about. I also know that I am related to Anique Theron in some way. I think she is my father's niece or something?
I will try to find out some more about these Greeff ancestors and family over the next couple of months. I know my grandfather built roads throughout the old Transvaal, mostly in the north. I think he actually swung a pick when he started - before working his way up. My father had a cousin in Pretoria, also a Thomas Greeff, but not a Gerhardus. Unfortunately I don't know him or his children.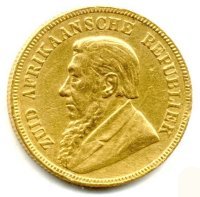 On my mother's side the family can be traced back to Oom Paul Kruger. My mother's mother was a direct descendant from this great man. My mother's father was the grandson of the Erasmus that built the "Spookhuis" or Erasmus castle in Pretoria. His mother was an Erasmus but his father a Pienaar. He was Pine Pienaar, a life-long member of the old Berea club in Pretoria. We often went there in its golden days as I remember. Sunday afternoon after church, eating from one till about four (I WAS a growing boy you know!). Those were the good times.
I will do some research and try and find some pictures, but for now this will have to do. When I get more information I will write again.
Serious Genealogy
(From Trevor Bedford)
Every morning when the English teacher came to the Afrikaans students to give them an English lesson she smiled broadly and said: "Good morning class!" Every day only one boy out of the whole class would stand up to greet the teacher in return. This happened time and again until she decided to ask him: "Why is it that every time I say "Good morning class", only you stand up to greet me?"
He replied: "It am 'cause I is the only people here what name are Klaas!"
'n Brief aan ons Kuiernet
Elke maand sal een van die briewe aan die Greeff Kuiernet in ons nuusblad herhaal word. Hierdie brief aan ons kuiernet het per abuis in my posbus aangekom.
Sent: Sunday, February 17, 2008 6:51 AM
Subject: Greef- Greeff - Rhodesia 1890
Looking to expand on this paragraph,
written by my grandfathers brother - Jack Carruthers
as well as looking for confirmation on the correct spelling of the surname
Rgds
Ian Carruthers
Harare - Zimbabwe
"Near Vlught Poort we spent 2 days with the van Arda's. These poor folk had fled to quietness from the inner Transvaal. They possessed a herd of good Angora goats with a few cattle and other stock. We enjoyed their homely hospitality and kindness. I afterwards arranged with Mr Stevens of the B.S.A. Company at Cape Town to allow them to take up a farm across the Limpopo on the Bechuanaland side. Our two-day journey along the east side of the Limpopo was uneventful. We were some distance up stream when we eventually crossed at a drift known to my old friend van Staden as Fig Tree Drift. It was seven to 8 miles up from the Shashi/Limpopo Junction, now called Rhodes's Drift. Mr Rhodes returned from Tuli to Pietersburg late in 1891 via my route."
"After spending the whole day cutting our way through the dense undergrowth to the drift, we had several interesting experiences. The wide sandy river was home to 15ft crocodiles, some over 600lb. We pulled early through the 150 yards of sandy drift to the Bechuanaland west bank and set up camp under a fringe of large mimosa trees. Water was accessible from just below the surface of the sand. It was around here where we searched for van Staden's brother's grave and failed to find it. Soon after out-spanning, Barrett and I rode back across the river to get in touch with a native ma'zeba at a small kraal known to van Staden. On the way we went to where we heard shots from a rifle a few miles downstream on the east side of the drift. As we emerged from the heavy timber we rode out on a herd of impala feeding. Jack Barrett wanted a trophy so dismounted and shot a large bull. We covered it up with branches to collect on our return. Riding on another mile we came out on a tented wagon brushed-in for safety. The women folk were very perturbed when we broke into view. After greeting we were welcomed by Mrs Frikkie Greef and her daughter Martha, with a native herd boy in attendance. Mr Greef and Hans Lee, of hunting fame, were away chasing a wounded buck. After they had ridden away, Miss Greef had just shot a lioness among the cattle. Many years later her brother met his death near Tuli having been clawed by a lion. He had killed two - the third, badly wounded, sprang on him. Hans was the son of John Lee, a well-known resident in the district. John's father was well acquainted with M'Zilikazi in the early days and a former captain in the Royal Navy. He married an Afrikaner woman who was a niece of President Kruger. Hans lived towards Mangwe Pass near the border. He was married to Frikkie's daughter, Martha. I fortunately found that they had trekked down from Matabeleland, making away to the Transvaal, owing to the likelihood of trouble with the Ma'Tebele, on account of the Charter Company wanting to enter Matabeleland."
"We rode back to direct our wagon to their camp for the night. Barrett and I made off to pick up the kill and tied it on the back of his saddle. We had not gone very far when we pulled up to quarrel about the point of compass we were following. It was midday and among big trees, a difficult problem in these circumstances. Barrett went off to the right. I kept to the same bearing that brought me out 2 miles downstream of the wagon. Luckily here I found a few stray cattle wandering away quite lost. Only a few miles divided the two camps. I fired a warning to draw Barrett. He came in after dark on hearing my dynamite charge, still carrying the impala. He was very distraught, his hands scratched and shirt in tatters, after a frustrating nine hours in the veldt. The next morning we trekked into the Greef's camp. My trail up would comfort him south to Pietersburg."
"In turn we followed up their trail the next day along the Shashi River and made for the Tuli junction. We had to cross and re-cross the Shashi many times. On the third morning, again hearing shooting, I rode out to investigate and came upon a Bechuanaland Border Police (B.B.P.) advance patrol under Lieutenant Hicks-Beach, with my old friend Fred from '84. Fred Brennan (ex Lowe's Mounted Police), with twenty others, cccc they were patrolling the northern Bechuanaland (Botswana) border. He was more astonished than I was when he learnt where we had come from. It had been hard going for our mounts having to often dismount and walk, scouting ahead for a wagon trail. We spent the night at Fred's camp."
On reaching the Shashi crossing at Tuli they found they were ahead of the column that was still at the Macloutsie River. The police force had moved from Camp Cecil to Fort Matlaputla on the same river for their final training. It become apparent there was a hitch between Lo'Bengula and Dr Jameson about the right of way. Jack dealt out what provisions he had to spare and started back to Pietersburg on the 26th May 1890. He arranged to take letters to Mr Rhodes and hasten the grain and other supplies that could be sent on. They made the saltpan by the eighth day. Mr Rhodes was pleased to hear Jack had opened the trail from the Transvaal to Tuli.
Die Greeff kuiernet se briewe kan almal hier gelees word:
http://archiver.rootsweb.com/th/index/GREEFF/
Books: Willie Greeff
An obituary extracted from Of Them I spoke by Sid Fourie.
(Fourie, Sid. 1978. Of Them I spoke, Esco. Jansenville. Page 211.)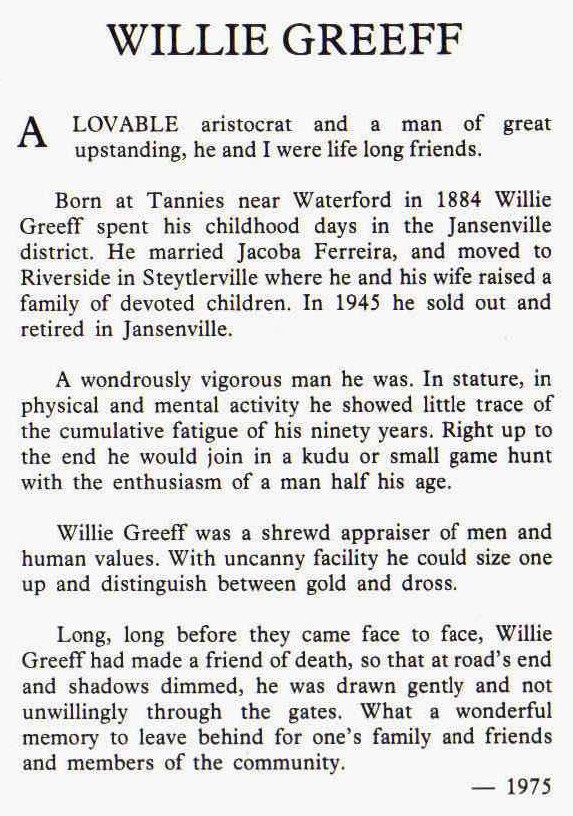 Thanks to Rina Greeff, Jansenville, for the image of the text.
I recently opened the family tree in Legacy and clicked on View, Master Lists, Location. This let me look at a list of all the places at which the people in the Greeff Family Tree were born, baptised, married and died and buried. I was shocked to see the mess I had made!
Paarl is a pretty ordinary place, and it is spelled only one way. Paarl is an uncomplicated location, but yet I had made a monumental mess of this simple name. I had:
Paarl - SA
Paarl, SA
Paarl, Sa
Paarl, Cape Province
Paarl, Cape Province, South Africa
Paarl, Cp, Rsa (The computer, at some point, decided to capitalise all 'words')
Paarl, Kp
Paarl, South Africa
Paarl, Kaap Kolonie
Paarl, Cape Colony
Paarl, Cape
Paarl, Cape, SA
Paarl District, Drakenstein
Drakenstein/Paarl
Paarl Distrik, Drakenstein Gemeente (the place of a baptism)
In his bed, at home, 42 Rose Street, Paarl, Western Cape (place of death).
There were also some farm names, followed by 'Distrik Paarl'. Every other town in the country showed the same mess, and some of them were worse. Somerset East and Somerset Oos, like Victoria Wes and Victoria West were towns that differed in different languages. Piquetberg and Piketberg have always been spelled two ways, and there were also a bunch of plain, old fashioned, stupid mistakes, like Colesburg instead of Colesberg. There were historic variations, in which Riebeekskasteel, Distrik Stellenbosch and Riebeeck Kasteel, Distrik Malmesbury, popped up. I was amazed to see how many places were listed in different districts, especially farms. Clanwilliam/Cirusdal and other andor pairs were common for farms.
I set about standardising location. I enquired and read up about what others had done. One prominent genealogist said to me:
"Ek stel plekke altyd as Dorp, Provinsie, Land. Met plase skryf ek die plaas naam, Distrik, provinsie en land. Byvoorbeeld: Nooitgedacht, Distrik Stellenbosch, Kaap, Suid Afrika. Sodra ek "Distrik Stellenbosch sien, dan weet ek dit is 'n plaas."
I thought long and hard about the inherent mistake in what he had said: "....dan weet ek...". One does not compile a family tree for oneself, but for other people, for generations yet to be born. I asked myself "Maar sal hulle weet?", and the answer was a resounding no. Rooigrond, Distrik Mafikeng, is a village and there are thousands of villages in South Africa that are too small to appear on the map. Railway sidings, like Kommadagga, also exist, but do not appear on ordinary maps, nor do places like Bruintjieshoogte, Driekops, Greystone, Waterford (where Willie Greeff was born), Toekoms, and Klipfontein.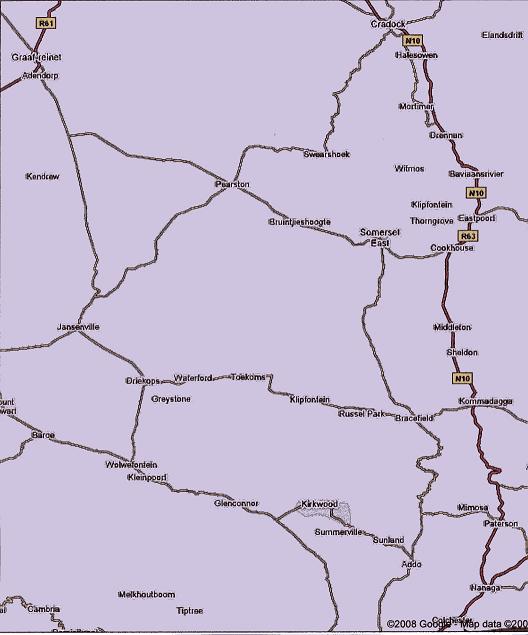 Map of places in the Somerset East District (Source: Google Maps).
I resolved to add the word "farm" to the name of a farm so that future generations could tell a farm from a village or hamlet. The word farm would eliminate the 'single quotes' and "double quotes" and (brackets) or [square brackets] and districts that had been used to indicate farms. I realised that the name or the province added no value to the location, mainly because the four provinces as most of us know them have been abolished and a dozen or so new provinces have taken their places. Anyone who wants to find a town or village in South Africa needs only to search for it in Google. I did decide to include the country in every location, because that gives global readers a quick general idea of where the location is.
I take no stand on historical place names that have been changed to new names. I use them any old how, as the occasion arises. Lourenço Marques and Maputo are both the same to me, as are Namibia and South West Africa. I know that Lourenço Marques was a sailor who came shortly after Bartholomiew Dias, but I have no idea who Maputo was. I know where Tanzania is, so I use it, and besides, I don't know wat they call it now. I don't know the new names for Piet Retief, Louis Trichard, Jan Smuts Airport, Ben Schoeman Highway, and Hendrik Verwoerd Dam, so I just use the old names. Give me another half a century and I will catch up. Maybe.
Half the problems with the wide variety of place names that confuse the search function of a computer arose because of trying to copy the place name as stated in the source document. I realised that I was stating the location of a place, and that I was not trying to copy what the source document said. There is a difference. The proper place to point out what the source document says is in "Source, Actual Text". Exceptions and oddities, like Commadagga for Kommadagga, can be explained in the notes field. The notes field is there for all sorts of odd stuff, not the location field. The place of death, I decided, was going to be 'Paarl, South Africa" and the notes or "Actual Text" field could report that the Death Notice gives the place of death as: "In his bed, at home, 42 Rose Street, Paarl, Western Cape, South Africa".
I decided, finally, on a standard formula:
1. All locations in English, where appropriate.
2. Towns appear as: Town comma Country.
Paarl, South Africa.
Berlin, Germany.
Sandton, Johannesburg, South Africa.
3. Farms appear as Farmname 'farm' comma Town comma Country.
Draaihoek farm, Jansenville, South Africa.
Uitdraai farm, Victoria West, South Africa.
4. Graveyards follow the farms rule, but include the word 'cemetery':
Maitland cemetery, Cape Town, South Africa.
Draaihoek farm cemetery, Jansenville, South Africa.
5. Exceptions would be made for villages, hamlets and odd places, especially where I did not know if the place was a farm or not.
Tannies, Waterford, Somerset East district, South Africa
6. American locations follow their custom, which generally includes the state.
Quogue, New York City, USA.
Dallas, Texas, USA.
Finally, I allowed myself a secret marker - I would put a full stop behind a location that was complete and final, and I would omit the full stop from an address that could be improved upon, was unclear, or incomplete.
Francois Greeff.
Vakante Poste
Navorsingsposte vir beide nie-lede en lede van die Greeff stam.
1. Graf Besorger.
Jy sal om die dood nooit spyt wees nie, as jy hierdie lewendige pos aanvaar.
'n Lewenslange langtermyn pos bestaan vir iemand (man, vrou of skolier) wat Greeff grafte wil help bewaar. Die suksesvolle aansoekster sal die hele wêreld elektronies deurreis op soek na Greeff grafte, fotos en inligting daarvan. Rekenaarvaardigheid is nie 'n vereiste nie, want indiens opleiding is ten alle tye beskikbaar. Die pos bekleedster sal as webmeesteres optree en alle nuwe grafdata op die Greeff familie webblad laai. Die suksesvolle aansoekster sal groot baat vind by 'n eie breëband konneksie.
Die grootste probleem met grafte is dat grafstene met tyd verweer. Die inligting op die stene word dan vir ewig verloor omdat dit onleesbaar word. Daar bestaan reeds talle organisasies, wereldwyd, wat grafsteen inligting en fotos op rekenaar bewaar.
Die pos is uiters lonend. Dit bring vir die suksesvolle aansoekster groot roem, wêreldwye erkenning en dank, en ervaring van rekenaar navorsing, webmeesters werk en internasionale genealogiese navorsing. Die grootste voordeel is dat alle beloning ten volle belastingvry is, want daar is geen geld in die vergoedingspakket nie!
Aansoeke aan Francois Greeff by Greeff@Greeff.info
2. Data Verwerker. 'n Lewenslange langtermyn pos bestaan vir iemand (man, vrou of skolier) wat graag inligting van Greeff mense wil help bewaar. Die suksesvolle aansoekster sal die hele wêreld elektronies deurreis op soek na Greeff inligting. Rekenaarvaardigheid is nie 'n vereiste nie, want indiens opleiding is ten alle tye beskikbaar. Die pos bekleedster sal as webmeesteres optree en nuwe Greeff inligting self op die Greeff familie webblad laai. Die suksesvolle aansoekster sal groot baat vind by 'n eie breëband konneksie.
Die pos is uiters lonend. Dit bring vir die suksesvolle aansoekster groot roem, wêreldwye erkenning en dank, en ervaring van rekenaar navorsing, webmeesters werk en internasionale genealogiese navorsing. Die grootste voordeel is dat alle beloning ten volle belastingvry is, want daar is geen geld in die vergoedingspakket nie!
Aansoeke aan Francois Greeff by Greeff@Greeff.info
3. Biografie Navorser. 'n Lewenslange langtermyn pos bestaan vir iemand wat graag persoonlike en biografiese inligting van Greeff mense wil help bewaar. Die suksesvolle aansoeker sal die hele wêreld elektronies deurreis op soek na Greeff biografië, en sal honderde briewe aan mense skryf om hulle te nooi en aan te moedig om by te dra tot ons reeks artikels "Wie is ek". Vlot tweetaligheid (Engels en Afrikaans) en goeie skryfvermoë is 'n vereiste. Rekenaarvaardigheid is ook 'n vereiste, maar spesifieke indiens opleiding is ten alle tye beskikbaar. Die pos bekleeër sal as webmeester optree en nuwe Greeff inligting self op die Greeff familie webblad laai, en sal elke maand 'n nuwe webblad by ons Greeff web werf voeg. Die suksesvolle aansoeker sal groot baat vind by 'n eie breëband konneksie.
Hierdie is 'n baie belangrike pos wat diepte en rykheid aan genealogiese navorsing verleen. Die pos vereis meer as net die vermoë om teks en artikels te redigeer. Dit vereis dat die bekleeër leiding aan leke en kenners sal gee oor hoe om 'n biografie te skryf en waar en hoe om goeie bronne te raadpleeg. 'n Kennis van die Harvard metode om bronne te vermeld sal ook help. Die pos is nie geskik vir kinders nie.
Die pos is uiters lonend. Dit bring vir die suksesvolle aansoeker groot roem, wêreldwye erkenning en dank, en ervaring van rekenaar navorsing, webmeesters werk en internasionale genealogiese navorsing. Die grootste voordeel is dat alle beloning ten volle belastingvry is, want daar is geen geld in die vergoedingspakket nie!
Aansoeke aan Francois Greeff by Greeff@Greeff.info
From: "Viljoen Greeff" <vgreeff@lantic.net>
Sent: Saturday, March 08, 2008 1:43 PM
To: "Greeff Francois" <Greeff@Greeff.info>
Subject: Ander Greeff voorvaders
Hello Francois
Hier is 'n lys van Duitse immigrante na die Kaap tot 1805:
http://www.geocities.com/Heartland/Meadows/7589/Names/PersonaliaG-K.html.
Onder meer sien ek die volgende:
GRAAF / GRAFF, Johannes Jacobus, Riedlingen a.d. Donau, *1754
GRAAFF / GRÄFF, Johann Jürgen, Dornassenheim, *1734
GRAFF, Johann Jürgen, 'Ostensee', 1769
GRAFF, Johannes Jacobus -> GRAAF
GRAFF, Leonhard, Schwäbisch Hall, 1771
GREEF / GREIF / KRAIFF, Friedrich, 1788
GREEF, Heinrich -> GREES
GREEF / KREFF, Joachim, 'Grootmunde' (=Groß Munzel?), 1710
GREEF, Johann Christoffel -> GREEVE
GREEF, Matthias, Magdeburg, 1680
GREEFF, Peter, Tönning, 1734
GREEVE / GREVE / GRÄBE, Conrad Adolf, Marburg in Hessen, 1800
GREEVE, Johann Christoffel, Northeim, 1712
GREEVE / GREVE / GREYBE, Johann Julius, Einbeck, *1767
GRIEF, Gottfried, Königsberg, 1733
Friedrich Greeff moet seker GREEF / GREIF / KRAIFF, Friedrich, 1788 wees?
Wat sou van die ander lot geword het?
Groete,
Viljoen
Francois Greeff se antwoord:
SA Genealogië, Vol 2, D-G, p521, gee die volgende inligting oor Greeff stamvaders:
Johann Christoffel Greeff van Nordheim x Kaapstad 2.5.1723 Johanna SCHENK
b1 Jan Joost = 6.8.1724
Joachim Kreff a. 1710 van Gross Munzel as soldaat, 1711-1715 saalmaker x 17.5.17 Johanna DE VRIES wed. v. Pieter Christiaan de Jager (die moeder van Greeff se kinders word ook aangegee as Adriaantje Willems) (sien Personalia, pp. 118 & 119) xx Anna Elizabeth DE GRAAFF d.v. Dirk Janse de Graaff en Elizabeth Markse v.d.K.
b1 Johannes = 12.9.1717
b2 Nicolaas = 25.6.1719
b3 Elizabeth = 29.6.1721
Peter Greeff a. 1734 van Tonning as matroos op die boot Stadswijk, word burger in 1746 x 2 l-11.1756 Wilhelmina BERGMAN wed. v. Cornelis Goosen
b1 Anna Catharina = 10.4.1740x 3.6.1771 Gregorius PENTZ
b2 Pieter = 12.8.1742
b3 Magdalena = 4.10.1744 x 25.8.1771 Georg Wilhelm HOPPE van Luneburg
b4 Jacomina = 28.6.1747 x 11.12.1774 Friedrich Jacob BERNHARDI
b5 Jurgen = 8.6.1749
b6 Dina = 19.3.1752
b7 Hans Jacob = 26.5.1754
Die webblad wat Viljoen in sy brief vermeld (http://www.geocities.com/Heartland/Meadows/7589/Names/PersonaliaG-K.html) verwys na Dr J Hoge se boek, Personalia of Germans at the Cape, 1652 - 1806. Hier is afskrifte van Hoge, pp 118 en 119: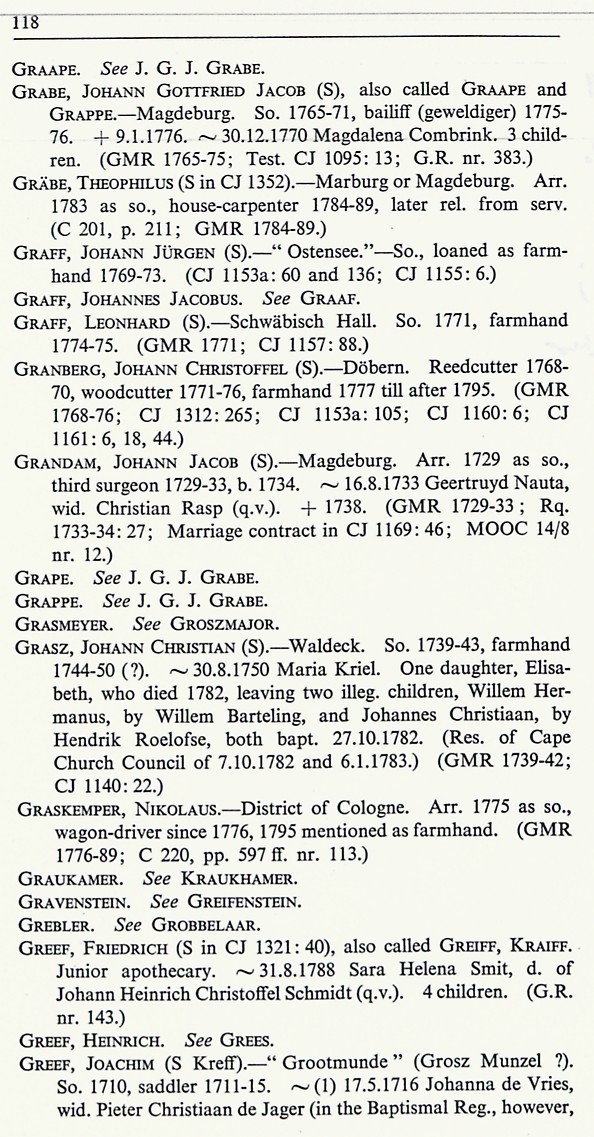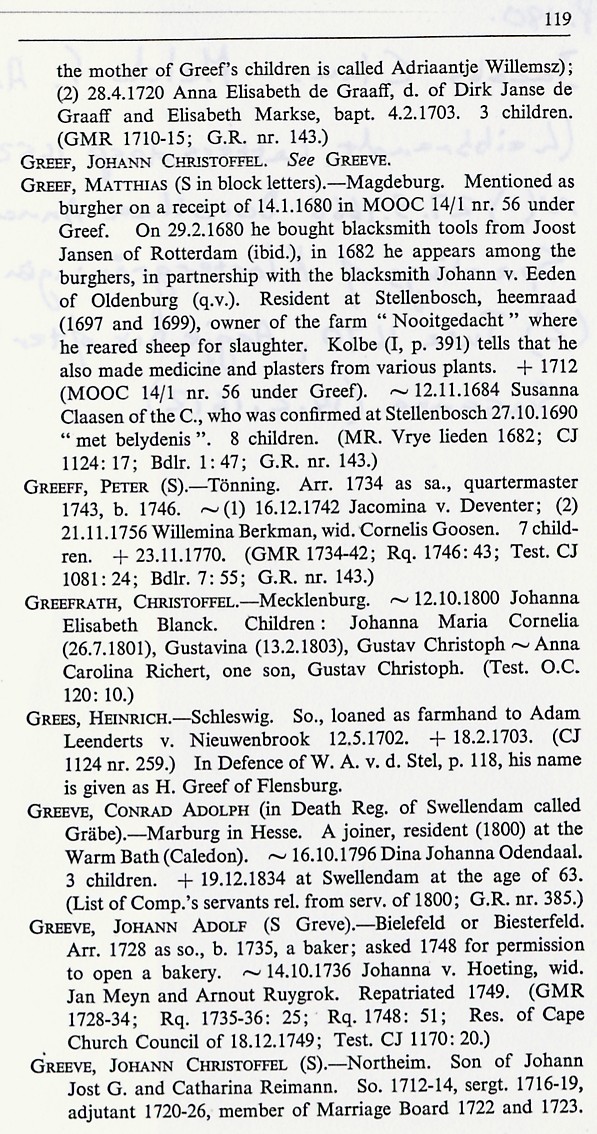 Ek het 'n paar redelik sterk vermoedens:
1. Ek glo nie dat die Graf en Graaff families ooit noemenswaardig met Greeff verwar is nie.
2. Greef en Greeve kon dalk deurmekaar geraak het. Mattias Greeff verskyn dikwels in ou dokumente as Greev of Greeve.
3. Ek vermoed dat sommige van die relevante immigrante na Europa terug is, met al hulle kinders.
4. Ek vermoed dat sommige families uitgesterf het.
5. Ek vermoed dat ons met tyd stamlyne na hierdie stamvaders sal terug voer.
6. Ek vermoed dat daar nog immigrante is was nie reeds vermeld is nie. Maria Rostok trou, byvoorbeeld, in 1725 op Stellenbosch met Jacobus Greeff. Hy verskyn nerens as immigrant nie, en hy in definitief NIE die seun van Matthias Greeff en Susanna Claassen is nie, soos in SA Genealogië vermeld word. Ek vermoed dat hy kinderloos oorlede is.
Ek stem met jou saam dat hier nog 'n lywige klomp navorsing voor lê.