Odds 'n Ends

Original Message -----

Sent: Thursday, September 14, 2006 5:22 AM

Subject: Re: [SOUTH-AFRICA] Greeff graves at Sanddrift

Hi Francois
I only have a single headstone as I am only interested in the War Grave side of things and was in Sanddrift last Sunday. I will send the photograph. I will check on my database as I may also have one from Kimberley that I took earlier this year, and next April there is one in Upington the I will get while I am there.

GREEFF P J A Private #227426
Technical Service Corps, S.A. Forces
11/11/1945
SANDDRIFT FARM BURIAL GROUND, KORINGSBERG. Plot 6

GREEFF H J Private #149
9th Dismounted Rifles
12/03/1915
KIMBERLEY (WEST END) CEMETERY Bl. G. Row A. 6. DR Sect.

GREEFF, Daniel Magiel Private #270
Mounted Commandos (Fraserburg Commando) S.A. Forces
07/12/1914 Aged 22
Son of Mr. M. J. and Mrs. A. M. Greeff, of
34, Victoria Rd., Southfield, Cape Flats.
Buried in Port Nolloth Cemetery, C.P.
Special Memorial UPINGTON (STATION) CEMETERY

The last one is a casualty from the WWI conflict against the Germans in SWA. A Special Memorial probably means that his original grave cannot be exactly located in Port Nolloth. As I have to go there also in April I will check.
Regards
Colyn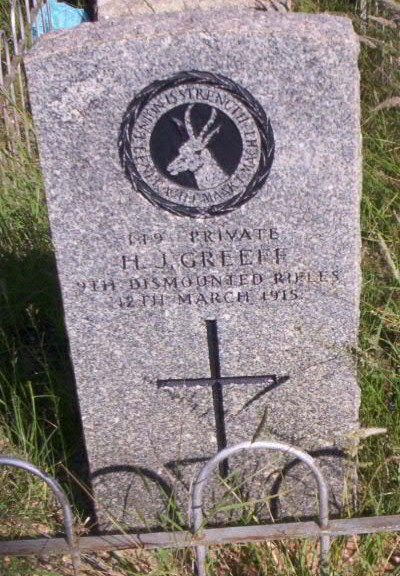 __________________________________________________________________
----- Original Message -----
Sent: Thursday, September 14, 2006 8:17 AM
Subject: GREEFF
Hi Francois
This is off list.... Just wanted to pick your brains here as I have some Greeffs listed
Jurgen Henry GREEFF died about 1936 in Johannesburg
x Joahnna Hermina BIRKIGT b 1894 Johannesburg d 1965 Johannesburg with children
Lilian Violetl, Daphne, Dorothea, Henry, Iris, Thelma, Edith, Cynthia
Do you have any infor on this Jurgen
Take care
Lynn
DEPOT TAB
SOURCE MHG
TYPE LEER
VOLUME_NO 0
SYSTEM 01
REFERENCE 92004
PART 1
DESCRIPTION GREEFF, JURGEN HENRY.
STARTING 19360000
ENDING 19360000
REMARKS SURVIVING SPOUSE JOHANNA HERMINA GREEFF.
__________________________________________________________________
Graaff-Reinet Stadsraad 1949-1950
Inlas: CB Minnaar

Agter:
CA Els, EB Conway, J Kroon, IH Landman, VEO Barrett, HW v d Voort, B Burger

Middel:
Mej E Venter (Hooftikster) AA Kingwill, CD Blom, JH Greeff (Burgemeester), JA Theron (Stadsklerk), CD Cilliers

Voor:
CJ Jansen, CH Vermeulen, DJ van der Ryst
__________________________________________________________________
Gabriel Johannes Greeff *13-09-1870 +16-07-1944
DEKORATIE VOOR TROUWE DIENST, ANGLO-BOEROORLOG, 1899-1902
Toegeken aan Greef, G. J., Kaptein en Adj
De dekoratie kan toegekend worden aan officieren van de strijdmachten van de Zuidafrikaanse Republiek en de Oranje Vrijstaat, wier diensten gedurende de Anglo-Boeroorlog, 1899-1902, van zo een Voortreffelike aard waren dat zij, naar oordeel van de Minister van Verdediging, speciale erkenning verdienen (Source: http://rapidttp.com/milhist/vol011fo.html).
Below are some gravestone inscriptions from the Manana graveyard at Lichtenburg from the records found at http://archiver.rootsweb.com/th/read/BUITENPOSTEN/2006-04/1143981077
20. Gabriel Johannes Greeff (oom Jan) *13-09-1870 +16-07-1944 x Carolina Petronella Greeff (tant Totie) geb De Wet *08-04-1873 +03-07-1947
21. Totie geliefd dochtertje van GJ en C Greeff *28-04-1903 +22-06-1908
23. Wollie geliefd zoontje van GJ en C Greeff *20-02-1910 +08-06-1913
Brother of Nonnie Greeff, who was later the wife of General Koos de la Rey
"Toe Nonnie se moeder in 1885 gesterf het, het Nonnie haar vier opgeskote kinders ook onder haar vlerk geneem. Hulle was:
1) Gabriel Johannes 3 September 1870
2) Susanna Maria 4 Julie 1872
3) Anna Catrina 23 November 1875
4) Abram Izak 20 Maart 1878"
(Rowan 2003:60)
Rowan, Zelda. 2003. Nonnie de la Rey 1856-1923. Master's Dissertation at the department of Historical and Heritage Studies at the University of Pretoria (etd-10122004-102524)
Source: http://upetd.up.ac.za/thesis/available/etd-10122004-102524/
See also Kol G J Greeff in Lichtenburg 1865 tot 1985, by A. D. Bosman, Chapter 17.
http://home.intekom.com/lichtenburg/bosman.htm
__________________________________________________________________
ARLENE3 WILLIAMSON (MAVIS2 TYCHSEN, PETER LUDWIG1) was born 31 December 1947 in Johannesburg, South Africa. She married PIETER GREEFF 7 March 1970 in Cape Town, South Africa. He was born 1 March 1945 in Prieska, South Africa.

Children of ARLENE WILLIAMSON and PIETER GREEFF are:
17. i. LINDA CLARE4 GREEFF, b. 12 March 1971, Melbourne, Australia.

ii. AMANDA LOUISE GREEFF, b. 3 August 1972, Melbourne, Australia; m. DAVID ROBERT MCDONNELL, 28 October 2000; b. 18 July 1970, Brisbane, Australia.
http://home.metroweb.co.za/~colyer/familytree/genealogy_report.htm
__________________________________________________________________
__________________________________________________________________
__________________________________________________________________