Greeff Bank Account
DIE GREEFF FAMILIE REKENING
The first account we opened for the Greeff Family has proved to be too expensive in bank charges, so we have closed it and opened an account where we have no bank charges. The details of the new account are:
Account Name: Greeff Family Account
Capitec Bank
Branch: Cape Town, Darling
Branch Code: 470010
Account Number: 117 850 7430 (Savings Account)
Bank Address:

Capitec Bank, Cape Town, Darling Branch
Mutual Heights
Cnr Darling and Parliament Street
Cape Town
8001
Signatories: Prof C.J.B. (Caspar) Greeff and Michele Murry (nee Greeff).
This account has closed, and is no longer active:
Account Name: Die Greeff Familie Rekening
First National Bank (FNB)
Branch: Kolonade
Branch Code: 251037
Account Number: 62 146 22 44 99 (Savings Account)
Bank Address:
Eerste Nasionale Bank
Kolonade Tak
Posbus 3254
Montana Park
1059
Signatories: Willex Greeff, Melinda van Schalkwyk (nee Greeff).
We thank the outgoing treasurers, Willex Greeff and Melinda van Schalkwyk, and congratulate them on the work they have done.
_______________________________________
This bank account was opened so that anyone can contribute to projects for the benefit of the Greeff clan. The account is new, so the rules will change as we go along. For the time being contributions can be made for specific projects, but if the funds needed for any particular project are oversubscribed, then the surplus may be used for any other project or transferred to capital. Any money that goes into the Capital account is never spent, but it may be invested to earn income. Ten per cent of all money paid into this account may be retained, at the discretion of the treasurers, for (past, present or future) Administration costs.
Current Projects:
1. Greeff University Scholarship. This fund is to support a research about the Greeff family at University by a student doing a post graduate research degree.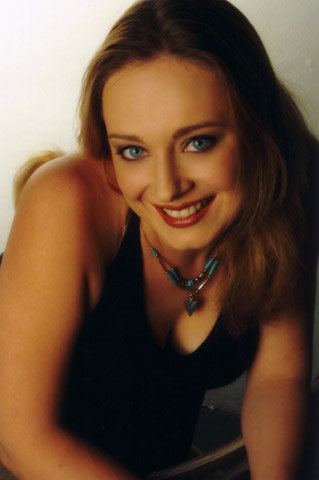 An active fundraising drive is currently raising funds for Natanja Greeff who has started to do a Masters Degree at Cape Town University. She is doing a research degree on the family Greeff and how the family formed new branches on Greeff family farms. (See: http://www.greeff.info/tng01/Nuusblad7-Mrt2008.php)
One letter deserves special mention and special thanks in this regard:
From: "Lucas Rinken" <lgr@iafrica.com>
Sent: Sunday, April 06, 2008 8:26 PM
To: <goodgreeff@hiddencode.co.uk>
Subject: Re: Greeff familie navorsing
Naand Francois,
Jammer as dit lank geneem het om te antwoord maar daar was 'n spesifieke rede.
Op ons GGSA Takbestuursvergadering gister is jou e-pos bespreek en ek haal aan uit die notule:
3.3 e-Pos van Francois Greeff:
GOEDGEKEUR dat daar R150 uit die kas aan die Greefffonds betaal word. Lucas sal ook R50 persoonlik skenk.
Hierdie fondse sal gebruik word om 'n student te ondersteun wat by die Universiteit van Kaapstad ingeskryf het vir 'n meestergraad oor die familie Greeff en hoe nuwe familietakke op Greeff erfplase ontstaan het.
Ek plaas R 200.00 binnekort oor na die rekening wat jy genoem het. Hoop dit help.
Vriendelike groete,
Lucas
****************************
I would like to thank many people for their generous donations:
Donor:

Date

Amount

Fred & VJ Greeff, Johannesburg.

26 March

150,00

Andre Servaas Greeff, Pretoria.

28 March

200,00

David and Alisan Greeff, Namibia.

2 April

100,00

Viljoen Greeff, Heidelberg.

2 April

100,00

Mike and Sue Greeff, Cape Town.

5 April

150,00

Hendro Greeff, Ireland.

4 April

650,00

Francois Greeff, Londen

4 April

250,00

Genealogiese Genootskap van Suid Afrika
Wes Gauteng Tak.

6 April

150,00

Lucas Rinken, Gauteng.

6 April

50.00

Hennie Greeff, Sandton.
8 April

200,00

Peter William Carroll, South Africa.
15 April

500,00

Johan Greeff
15 April

100,00

Anonymous.

15 April

11 500.00

Jan Greeff, Barberton.

16 April

50,00
Dr Daantjie Greeff, Paarl, South Africa.

16 April

100,00
Marilyn Greeff, Natal.

16 April

250,00
Llewelynn Greeff, London.

16 April

500,00
Fred and VJ Greeff, Johannesburg (Again)

16 April

2000,00
Gerhard en Susanna Greeff, Zeerust.
17 April
300,00
Lucia Wels
17 April
300.00
Arno de Wet, Ballito.
18 April
250,00
Marchant Greeff, by Viswaters, SA.
19 April
150,00
Juliette Scholtz van Mtunzini, Natal
21 April
100,00
Awie Greeff op Stellenbosch
21 April
300,00
Louis Echbert Greeff in Pretoria
22 April
400,00
I thank each one of you warmly. It is good to know that you make serious, structured Greeff research possible.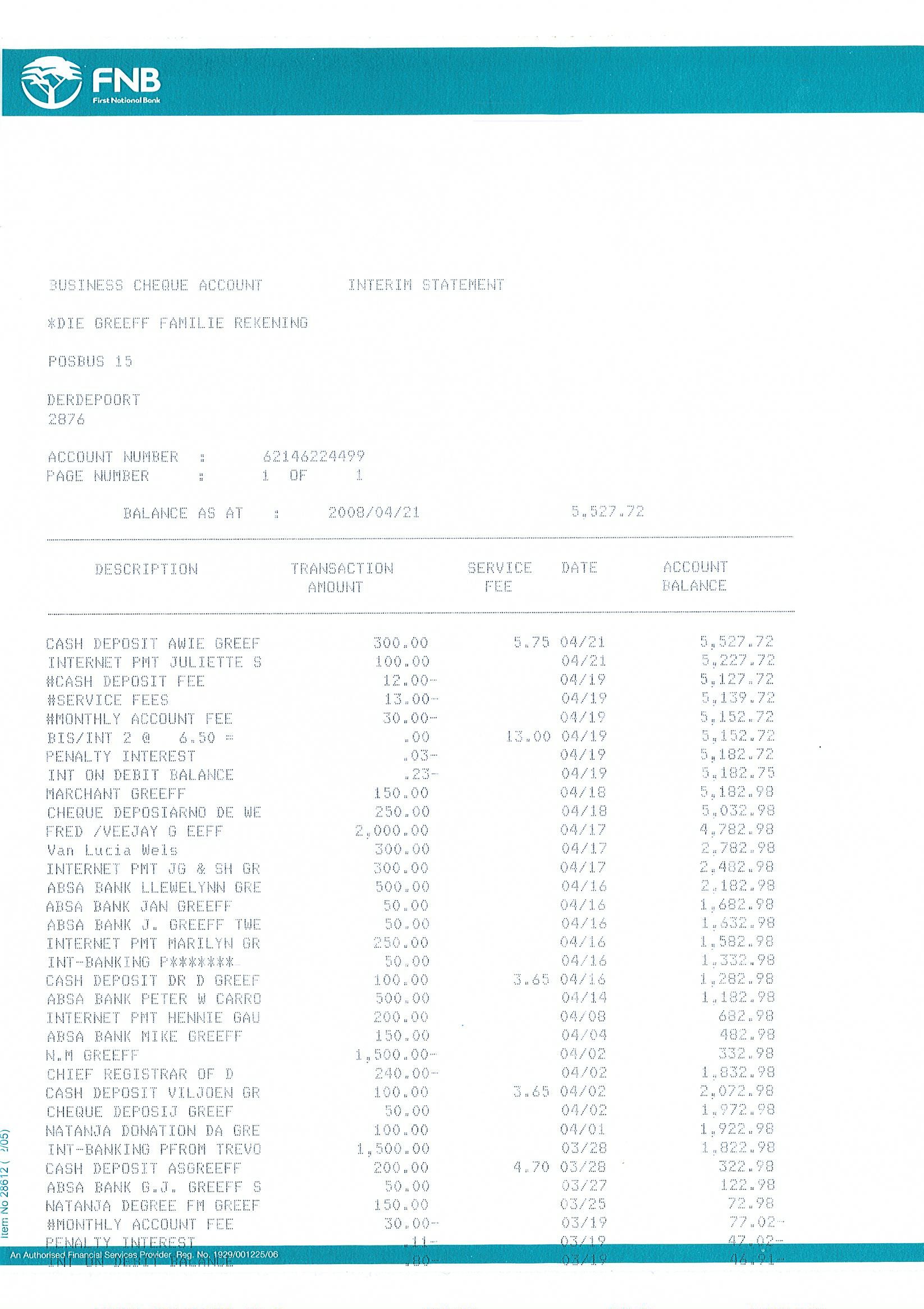 Click on the statement for a bigger image.
Francois Greeff
16 April 2008
Contribution Code: Study + donor name
2. Administration Costs. Bank charges. The costs of the software that drives the web site and the costs of the web hosting have thus far been met by Francois Greeff, out of personal funds. Donations will ensure that the Greeff Family web page survives after the death of Francois Greeff, who has cancer.
Contribution Code: Admin + donor name
3. Capital Account. This is probably the most important account of all because the long term success and survival of the Greeff Family Web Page depends on a regular flow of funds from capital invested. It may be a good idea to make a bequest to this fund in your will.
Contribution Code: Capital + donor name
Completed Project:
1. Restoration of Painting: The only painting of Hendrik Adriaan Greeff, that exists is over 100 years old and it needed restoration urgently. Jan Middeljans was appointed to restore the painting. The restoration cost R2 400,00.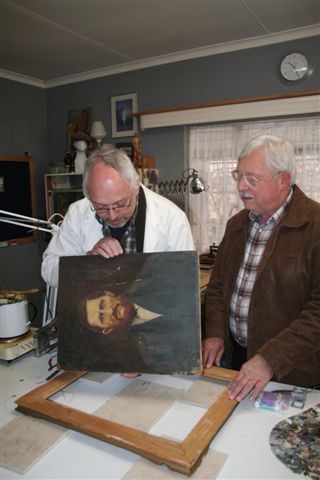 Jan Middeljans removes the painting from its frame (Hendro Greeff, owner of the painting, on right):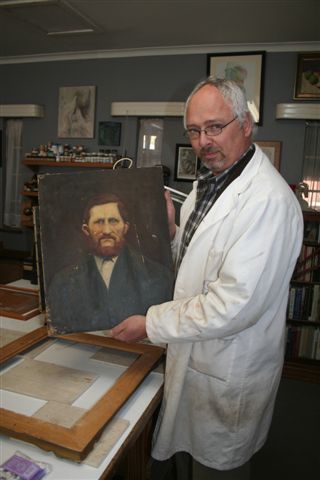 Donations to are acknowledged, with gratitude, from:
| | |
| --- | --- |
| Jan Greeff, Barberton. | R 240,00 |
| Andre Greeff, Pretoria | R 240,00 |
| Hennie Greeff, Sandton | R 240,00 |
| Ina & Hendro Greeff | R 720.00 |
| Willex D Greeff Snr, Vishoek | R 240,00 |
| Johan Greeff, Stellenbosch | R 240,00 |
| Francois Greeff, London | R 240,00 |
| Lucia Wels | R 240,00 |
| Total | R 2 400,00 |